Best Metro Style WordPress Themes
One of the terms that keeps getting thrown around to describe some new responsive WordPress themes is "metro style". Themeforest have recently run a promotion asking for people to sumbin their best examples of 'metro style WordPress themes'. But what exactly is a metro style WordPress theme? I just have an image of skinny jeans, messenger bags and emo haircuts, but that doesn't really apply to a WordPress theme, does it? I suppose I could wear my skinny jeans while I carry my laptop in a messenger bag on my way to the local coffee shop while listening to some dubstep. But what exactly do they mean when using the term when referring to a WordPress theme design?
After over 550 hours of hard work (around 100 hours for design, 200 hours for HTML/CSS , 200 hours for WordPress and 50 hours for documentation and brainstroming) we have finally launched our "STYLISH – Metro Inspired Multi-Purpose WordPress Theme" on themeforest.net. First of all I would like to thank Adrian Holobut (our amazing Front-End and WordPress Developer) for his hard work, attention to detail, high quality work (and when I say "QUALITY" I really mean it) and for the detailed documentation. Also I want to thank Lisias Pop (our Support Member) for his patience, high communication skills and professionalism in issues solving.
Second Touch is clean, retina ready, fully responsive metro style theme. Its powerful customization capabilities enable you to create your outstanding website easy and fast. Its super modern metro style will draw your attention once and for all. And its responsive design will make your site look wonderful on each screen size device.
Puzzles is an amazing new Metro style WordPress theme with a load of potential to make your site a huge hit.  This is a great Metro Style WordPress theme.  It's highly flexible, fully responsive and has a ton of features you'll need for just about any purpose you can imagine.
[divider scroll_text=""]
Zinc – is a multipurpose theme with plenty of features to cover up a large number of website types you can create with it. Zinc supports numerous features and website types such: Corporate, Shopping, Portfolio, Gallery, Blog, Magazine, Photography, Restaurant, etc. This is a great Metro Style WordPress theme. With its flexible layout builder you can create great and uniqe page layouts in seconds, build contact forms, maps, social networks and many many other supported elements.
[divider scroll_text=""]
Metro Mobile Template is just limited with your imagination. Create your own metro mobile tiles and own style.  Let's create your Metro style… (WordPress 3.6.x Tested!)  Free to use 13 different size metro tile.  Added 24 real Metro Colors & Unlimited with Custom Color. This is a great Metro Style WordPress theme. Support multiple Photo Gallery. Well documented for give you all information about metro mobile template.
[divider scroll_text=""]
We presenting you our latest Metro Rox HTML5 WordPress Metro Multipurpose theme. The fast, easy, light theme will decorate almost any site on wordpress. We had made it with a high booster wordpress theme backend option which will help you to change anything from theme settings area. is flexible and comes with a predefined suffix class or widget class suffix. It is easy to customize and arrives with REAL QuickStart Installation Package for wordpress . various widgets and PSD Sources for various graphics used on the demo site. It is fast loading and compatible >IE9+, Firefox, Chrome, Safari etc. This theme includes a rich documentation where you can find documentation, tutorials and find code snippets on how to customize the theme. So "Metro" is here at Themerox for your perfect choice.
[divider scroll_text=""]
Proxim is a highly re-usable creative parallax theme with flat design style ,metro colors and unusual geometric parallax dividers built with touch of uniqueness in everything. This theme is fully responsive and mobile optimized.
[divider scroll_text=""]
ARGO is a unique and creative WordPress Theme with clean and modern design. It is perfect choice for your corporate agency, creative studio or for portfolio. It can be customized easily to suit your wishes.
[divider scroll_text=""]
Nemo Metro Theme
Nemo is a metro inspired, full ajax site with a unique design. It's a dark, minimal yet powerful wordpress theme. Nemo is a perfect theme for designers, photographers or other artist to showcase their work in a professional way. It has a compatible layout with mobile devices. We have tested it in all major browsers in desktop and mobile devices Compatible on latest WordPress version
[divider scroll_text=""]
Renova MultiPurpose Flat Metro Theme
Renova is a highly unique and reusable, one-page creative portfolio theme with fully responsive layout built using Bootstrap framework. Renova is a one page theme with flat design trend but a advanced blend of uniqueness.
Renova MultiPurpose Flat Theme
[divider scroll_text=""]
Amzola Metro Style WordPress Theme
The theme is 100% responsive, this mean it can work well on smart phone and tablet devices. And the responsive mode can easily be turned on or off.
Amzola Metro Style WordPress Theme
[divider scroll_text=""]
MetroStore Flat eCommerce Theme

The Metro UI is becoming more popular ever since Microsoft released Windows 8 and Windows Phone 7. Inspired by its simplicity and flat design, ColorLabs released the MetroStore WordPress theme to please the eyes of Windows 8 fans. Among many others, flat colors and design are some of its great features. MetroStore is a great choice for you who runs an online magazine that also functions as an e-commerce site.
MetrStore eCommerce WordPress Theme
---
Metro – Metro Style WordPress Theme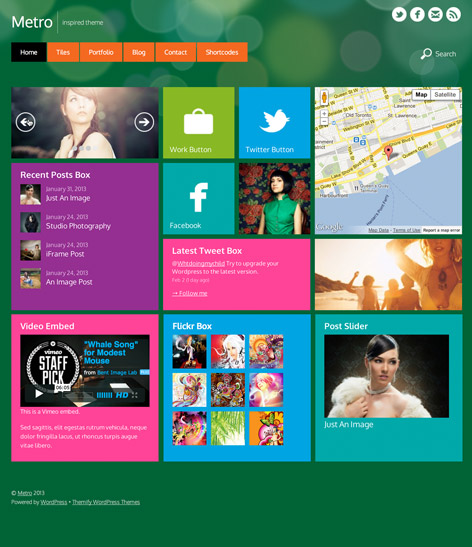 A really classic example of the metro style is called, well…Metro.  They really nailed the grid layout, clean and simple lines and easy navigation.  Build in social icons and other features make this theme really easy to integrate into an existing social networking campaign.
Metro Metro-Style WordPress Theme
---
MetroStyle WordPress Theme

This is an Elegant Themes offering, so you know a lot of the great things you're going to get: tons of short codes, great support and really clean code.  This one isn't the purest Metro Style theme, but the grid layout does give it enough in common that we've included it.  Let us know if you think it qualifies.
---
One Touch
Many Shortcodes, Page Templates and Theme Options give you full control over your website. Manage your site like never before by using the countless powerful features that come packaged with all of our themes. We providing good tech support to all of our customers. With our dedicated support staff, you can be sure that you will have your blog up and running without a hitch no matter what your experience level.
One Touch Modern Metro WordPress Theme
---
K-Boom Music And Events Metro Inspired WordPress Theme
K-BOOM is one of the powerful Music & Events WordPress Theme, it is meant to serve for Music Projects, Events, Portfolio or just for Blogging. It is a theme with ultra responsive layout adapting perfectly and allowing you to visit it from any devices you want. Being created with user experience in mind our customers will be more happy and with few click's your theme is installed.
K-Boom Music And Events Metro Inspired WordPress Theme
---
MetroMag Metro Inspired WordPress Theme
Metro Magazine is a clean and powerful metro inspired responsive magazine WordPress 3.5 ready theme designed specifically for magazine, news and blog sites. The theme is highly flexible, fully responsive and packed with awesome features. It is incredibly easy to use and ready to be up and running out of the box. Created using the latest HTML5 and CSS3 techniques.
 MetroMag Metro Inspired WordPress Theme
---
Metro.mobile
Metro Mobile Template is just limited with your imagination. Create your own metro mobile tiles and own style. You can make the tiles any size you want, which is pretty cool.  You'll never run out of different layout options no matter how many pages you have.

Metro Mobile WordPress Template
---
OneCommunity
OneCommunity theme is integrated with a BuddyPress plugin which lets users register on your site and start creating profiles, posting messages, making connections, creating and interacting in groups and much more. A social network in a box, build a social network for your company, school, sports team or niche community.
One Community Metro Style WordPress Theme
---
Matrix
Matrix Metro Theme is a responsive, intuitive tile-based theme which is inspired by Metro design. The tiles can be made 'live' to display more information on the screen without occupying more space.
---
Aeolus
Aeolus is a WordPress theme specially designed based on the Metro design style, high contrast and flat colors are some of its great features. Aeolus is very suitable for portfolio, business, corporate and any kind of websites With New Features of WordPress 3.6.x, Aeolus has been coded to improve capability of the WordPresss 3.5.x features.
Aeolus WordPress MetroStyle Theme
---
Rocket Board
Rocket Board is a super awesome portfolio WordPress Theme with METRO style. You can set each thumbnail size as 1×1, 1×2, 2×1 or 2×2 easily. This theme also allow user to set specific colour on each metro box or just use the default colour from admin panel. You can also set the first state of metro box to show as colour box or show as feature image. This theme has 9 predefined background colours and 8 overlay patterns….or if you need to upload your own background image, it's just fine.
Rocket Board WordPress Theme with Metro style
---
Modern Metro
Modern Metro is theme strongly based on Metro UI (Modern UI). It has horizontal layout with live tiles that you can easly sort by dran 'n drop. Theme supports dedicated gallery, blog and portfolio system, huge ammount of shortcodes that will help you create great looking metro website. Every feature listed below may be modified without any knowledge of web development – all of this can be changed via customized admin panel.
---
Metro.press
Metro.press is a responsive premium WordPress Theme inspired by metro design. Metro.press is powered by Warp Framework and Widgetkit, it is fully localized/internationalized, SEO friendly, and has been tested in all major browsers. Metro.press comes with nine expressive colors and style variations. Metro.press is fully responsive and suitable for big and small screens.
Metro.press Responsive WordPress Metro Style Theme
---
Everest
It's a great question and apart from the obvious answer that you should love the look, feel and functionality of my product and appreciate the well organized file structure, helpful commented code, and pixel perfect design, it's that I stand behind my products.
I have one of the largest portfolio collections on ThemeForest, I'm an Elite author which means I've sold and supported my products to thousands of buyers, and I've been member here for 5 years now – I'm not going anywhere and neither are my products.
---
Metrofy
This template was designed for creating portfolios, agency & consulting firm websites and corporate websites.  The unique and unlimited Tiles Layouts will help you present your content beautifully, be it your line of products or services or portfolio items.
Metrofy WordPress Theme Metro Style
---
xSquare
xSquare WordPress template is a universal all-in-one solution for your business. It is packed with cool elements and features and it stands out from the crowd with its effectiveness. The theme is very easy to use and modify. There are mega popular sliders included as well as popular "Our team" plugin. The product page is different and interesting and it can be used in multiple ways. The services page can easily be set up so that it corresponds with your line of work. xSquare WordPress template comes with an in-built color picker so it is very easy to change the layout colors and to fit it to the design of your choice. Demo content is included in the download package and it can be easily implemented. There are 600+ Google fonts included in the xSquare WordPress template.
xSquare WordPress MetroStyle template
---
Novelti Bold News Magazine WordPress Theme
Novelti is a Bold News Magazine WordPress Theme. Whether you want to give your blog a new cool and modern look or craving for awesome usability, look no further novelti is the theme for YOU. Great User Experience, simple way to present your content in an accessible, logical and beautiful manner are some of features that will make this theme stand from a crowd.
Novelti MetroStyle News Magazine WordPress Theme
MetroVibes Metro Style Portfolio WordPress Theme
This metro WordPress theme is bound to turn some heads. The elegant and minimalistic look will definitely give a modern vibe to your website and will impress each and every one of your visitors.
Metro Vibes – Metro WordPress Theme
Shape Grid Portfolio WordPress Theme
Blog, portfolio, creative agency, photography website or any other related website. Shape is intended to showcase your latest works and projects through the use of images.  Shape is a Photography WordPress Theme with a clean, minimalist design, smooth transition effects, a beautiful showcase and a rich set of advanced features powered by our latest version of Tesla Framework.  This is a great Metro Style WordPress theme.
[divider scroll_text=""]
WaveMetroPro is a powerful business WordPress theme that a lot of people are talking about. It's an incredible premium theme with powerful customization settings that will let you transform it into your unique business tool. WaveMetroPro is very intuitive to use and completely ready to operate out of the box. 500+ Google fonts, 100+ Cufon font and Fontface, plenty of customization options, tons of useful shortcodes, unlimited page layouts and much more. With our demo site, demo data and extensive documentation you get the perfect starting point for any kind of website.  It is highly customizable to suit the needs of every user.
---